In Summer 2014, the BItT organizes a Lecture Series on the topic "Recent Paradigms of Film Studies" / "Neueste Paradigmen der Filmwissenschaft".
Summer 2014
wedndesdays, 4-7 pm
Rotunde, Cartesium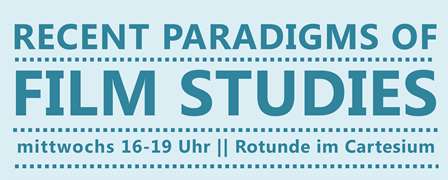 In this lecture series, we want to particularly focus on the medium of film as an audiovisual synthesis which can be examined from various perspectives. We have invited contributions to this series from disciplines such as narratology, multimodal analysis, philosophy, sound as well as cultural studies in order to bring together a variety of innovative research issues. By concentrating on film as one class of text, we want to follow basic interests we have already dealt with in former lecture series and colloquia, but at the same time ask for new developments and progress made in other disciplines.
The talks in this lecture series are planned to be given for both researchers as well as students from Bremen and adjacent universities interested in film theory. Students can get Credit Points for their active participation. A registration for this class is possible on Stud.IP.
Programme:
14.05.2014 | Wolfgang Wildgen
Dynamische Strukturen filmischer Narration
21.05.2014 | Theo van Leeuwen & Morten Boeriis
Semiotics of Film Lighting
04.06.2014 |  Martine Huvenne
Spatial Montage in Film as an Audiovisual Composition
11.06.2014 | Frank Wilderson
Social Death and Narrative Aporia in Manderlay and 12 Years a Slave
18.06.2014 | Mirjam Schaub
Stanley Kubricks "Dr. Strangelove" oder: die Gesetze der Perfektion
25.06.2014 | Neil Cohn
The narrative grammar of comics, film, and discourse
02.07.2014 | Joyce Goggin
Expanding Minds / Expanding Adaptations
09.07.2014 | Hermann Kappelhoff, Sarah Greifenstein
Verkörpertes Denken und audiovisuelle Bildlichkeit – Metaphorizität und Film
16.07.2014 | John Mullarkey
A Film of Philosophy: How to Remake a Thought Cinematically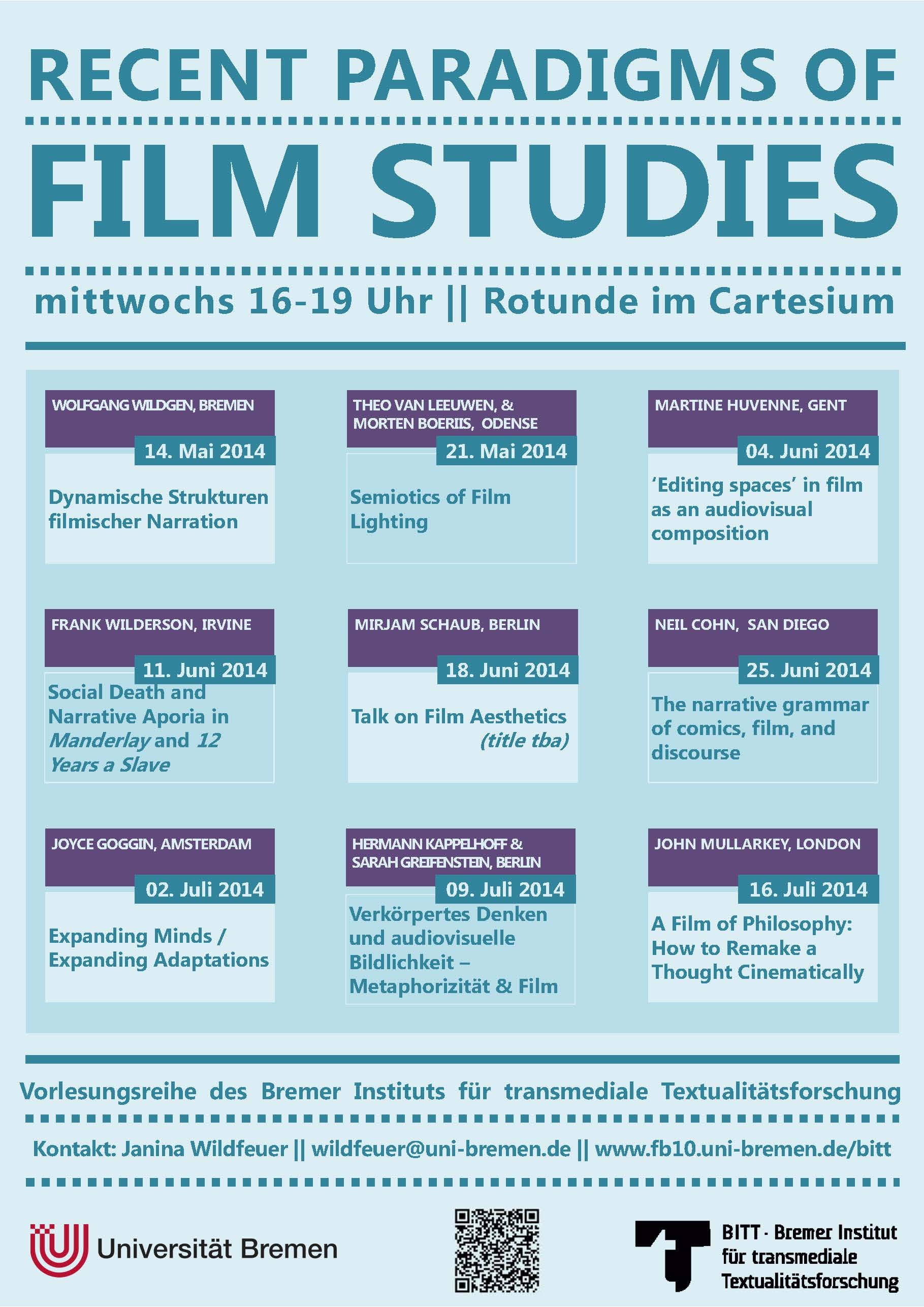 Please find a poster for the lecture series here as a pdf.