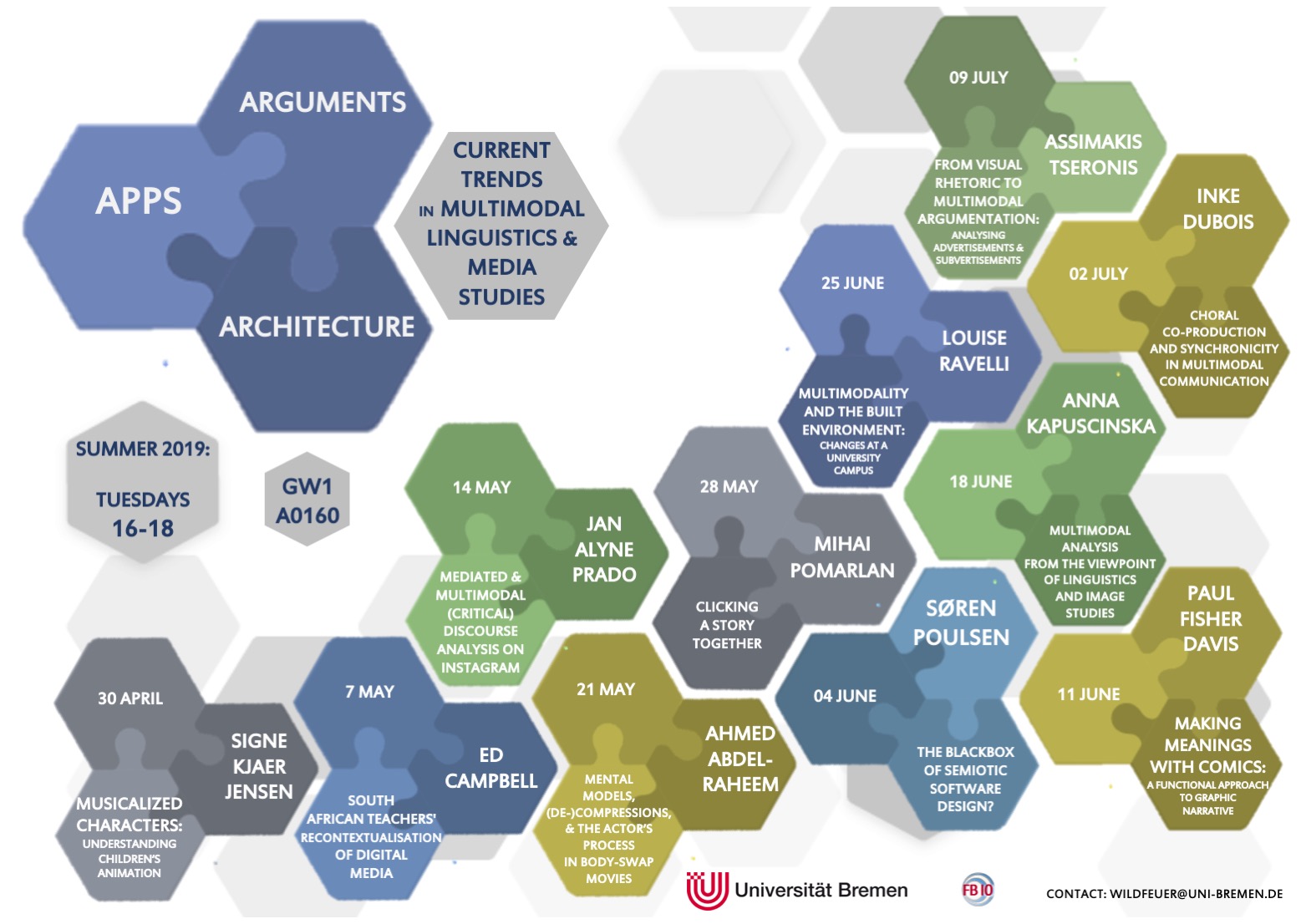 This lecture series gives an overview of current research trends in the areas of multimodal linguistics and media studies, focusing on recent advancements in the application of linguistic (and other) frameworks to a variety of artifacts and performances. Presentations from international guest researchers will discuss various communicative situations in our daily lives, resulting from the use of social media, films, comics, or gaming applications, challenged by fake news and global Trumpism, or influenced by architecture, design and spatial environments around us.
The lecture series takes place
Tuesdays, 16.15-17.45
in the GW1 building, room A0160
and we invite all interested colleagues, students and others
to come and discuss with us!
PROGRAM:
30 April | SIGNE KJAER JENSEN, LINNAEUS UNIVERSITY SWEDEN
Musicalized Characters: A Musical, Multimodal and Audience Centered  Framework for Understanding Children's Animation
07 May | ED CAMPBELL, UNIVERSITY OF CAPE TOWN, SOUTH AFRICA
Newly Qualified South African Teachers' Recontextualisation of Digital Media during English Language and Life Orientation Lessons
14 May | JAN ALYNE PRADO, UNIVERSIDADE FEDERAL DE OURO PRETO, BRAZIL
Mediated and Multimodal (Critical) Discourse Analysis on Instagram
21 May | AHMED ABDELRAHEEM, UNIVERSITY OF BREMEN
Mental Models, (De-)Compressions, & the Actor's Processing of Body-Swap Movies
28 May | MIHAI POMARLAN, UNIVERSITY OF BREMEN
Clicking a Story Together
04 June | SØREN POULSEN, UNIVERSITY OF SOUTHERN DENMARK
The Blackbox of Semiotic Software Design?
11 June | PAUL FISHER DAVIES, UNIVERSITY OF SUSSEX, UK
Making Meanings with Comics: A Functional Approach to Graphic Narrative
18 June | ANNA KAPUSCINSKA, UNIWERSYTET KAZIMIERZA WIELKIEGO, POLAND
Multimodal Analysis from the Viewpoint of Linguistics and Image Studies
25 June | LOUISE RAVELLI, UNIVERSITY OF NEW SOUTH WALES, AUSTRALIA
Multimodality and the Built Environment: Changes at a University Campus
02 July | INKE DUBOIS, UNIVERSITY OF BREMEN
Choral Co-Production and Synchronicity in Multimodal Communication
09 July | ASSIMAKIS TSERONIS, ÖREBRO UNIVERSITY, SWEDEN
From Visual Rhetoric to Multimodal Argumentation: Analysing Advertisements and Subvertisements