Welcome to the homepage of newleaf, Germany's leading English-language literary magazine. Whether you would like to buy and read the magazine or feel you could contribute to its pages, this site will tell you all you need to know about newleaf - past, present and future.
You'll find information about the magazine itself, about the books in the newleaf press series, about the people behind its success and news of the events we put on.
So dip in and turn over.
Would you like to start with…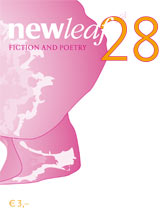 leaf news: № 28 was launched and is now on sale
Current issue: newleaf 28 – By leaves we live
---
this ugly concrete goliath
will one day be
reduced to rubble
by some little kid
throwing stones
Shawn Huelle – Uni Bremen (from newleaf 5)