editorial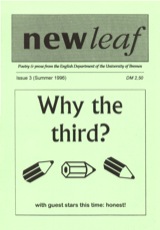 There was an old party of Lyme,
Who married three wives at one time.
when asked, 'Why the third?'
He replied, 'One's absurd,
And bigamy, sir, is a crime.'
Cosmo Monkhouse (1840-1901)
This third newleaf has been dogged by the kind of delays which are inherent in a one-man show, especially when that one man has a sixteen-hour-a-week teaching load, a family, a tottering literary career and an equally tottering football team to support. One way to improve the situation was to wind down the one-man-show scenario, and here a start has been made. So we — the under­signed two-man show — would like to thank our local faculty, Fachbereich 10, for putting at the magazine's disposal — and in very hard times — funds in the shape of a student assistant towards editorial help for this issue.
As announced in newleaf 2, this issue sees the start of a new feature. Over the years, the British Council have happily provided us with writers we wanted, and there were of course various other contexts in which English-speaking writers came to Bremen; and so it seemed a good idea to document that co-operation in these pages—so that our guest writers can leave behind something more concrete than the memory of their reading or a few signed copies. We would like to thank Marijke Brouwer in Cologne and Heidrun Schachtebeck-Janik in Hamburg—and everyone else in their offices—for all their help over the years. This issue's guests are James Simmons, who came to read with Frank Ormsby by courtesy of the British Council; a third Ulster­man, Annesley Downey; Paul Nixon, one of our ERASMUS partners from University College Stockton, with a piece on World Cup '94 which will have found its echoes this summer during Euro '96; Terry Mac Donagh, a Co. Mayo writer whose collection The Road Out ap­peared in the Olaf Hille Verlag in Hamburg in 1993; and our Bremen colleague Uche Nduka, at home with us from his troubled country Nigeria. Last year newleaf Press published his Bremen Poems, which met with a good response internationally.
We would like to apologise for the mention of 'star guest appearances' on the cover of the previous issue. At some point late in the production process it was decided to dedicate Issue 2 exclusively to the texts produced in Vernella Fuller's workshop—and the appropriate adjustment to the cover text was simply forgotten.
Of the rest of our contributors, all except two are students of the department. Fiona Metscher, an eighteen-year-old from Bremen's Ökumenisches Gymnasium, produced her text 'Light like a whisper' for an English lesson in which she and her fellow-students were asked to respond to Macbeth's fateful soliloquy. The text is of such grace and grandeur that when it was brought to our notice we ear-marked it immeiately for newleaf. It is heart-lifting that at last in our schools literary responses to literary texts are being encouraged; let us now hope that the grave of the 'What is the author trying to tell us; how are the trade unionists portrayed; what does the rose in line three stand for?' approach to literature is at last being dug. Creative writing in German is also on the march, at least in some of our Bremen schools. Some colleagues at Schulzentrum Drebberstraße, a secondary school in the city's far-from-prosperous east side, are working with students from 13 to 16 who come from backgrounds so very different from those of most of our kids doing English up to Abitur level. These teachers have been rewarded with a cornucopia of sparkling and disturbing texts about football, sex and love, violence in the home, group loyalty and attitudes to school which cannot find a way into these pages, not least because they are in German or Turkish. We have made one exception: the text by fifteen-year-old Deike Steenblock, who, in 'Viel zu kurz', has simply done what all poets strive to do: to capture and breathe life into what we all recognise and share—in this case the primal and ever-occurring event of the death of a relationship. She has probably never heard of Ezra Pound, even though she has followed his maxim to 'make it new'.
What is also new is the haiku page, this time dedicated exclusively to one poet. This will become a sporadic inclusion, since supply depends on the quality of work proffered in the department's different creative writing seminars. Haikus are a splendid exercise in cultivating conciseness; students are often able to produce most illuminating examples of this deceptively difficult genre.
Most of the contributions in this issue follow topics which were thematized in classes; others are one-off texts that have been offered. Some of the 'identity' poems at the beginning came from a teacher-training project in the Department entitled Growing Up, as did the two father-and-son poems.
Finally, our thanks to Kerstin Probst for her great work on the manu­scripts.
contents
Me

Untitled

Who me?

Who me?

Photographs

Today

Watching the world cup watchers

The white white scarf

Living together

Love sonnet III

Haiku box

Epilogue

Five poems

Untitled

Snow in Hamburg

Light like a whisper

Another last day

The gales of November

Visitors

Comedians

2 weeks in October

Wasserstraße

Closed eyes

Father

Father

Autumn pause

The way ahead