editorial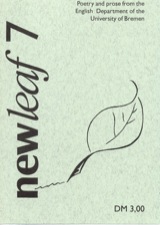 newleaf looks as though it is going to make it into the new millennium. Looking back now after half a dozen is­sues we can say that the magazine is establishing itself and that a hard-core readership is growing. We now get encouraging letters and slaps on the back from all over. Thank you for your support.
In the meantime, creative writing grows in Bremen. Not only has it now become a fixed feature in the Departments of English, German and Cultural Studies at Bremen, but it thrives apace in our schools. The encouraging thing is that it is obviously taking off in English classes. We occasionally get offered texts by English teachers, and are encouraged by what we see — even if most of the work we receive is far from publishable. Thanks to Helga Schierenbeck from the Gesamtschule Mitte for the latest batch, which included such wonderful fragments as:
If I was your one and only friend
would you run to me if somebody hurt you
even if that somebody was me?
Since newleaf 6 appeared, a lot has happened on the pamphlet front. In October 1998 we published our first French volume, Soldatesques, a novella and a collection of poems by Sélom Gbanou, the Togolese writer who is cur­rently working at the University of Bremen. Then, in November, we launched Shawn Huelle's From the Bottommost Town Musician with a very well-attended reading in the Café Ambiente. Like newleaf itself, these two slim volumes can be ordered from the Bremen University Book Shop; you will find details of prices and ISBN numbers on the last page of this issue.
This issue sees a return to the balance between poetry and prose that was the hallmark of the first four issues. In addition, we have re-introduced the Haiku Box, as this tough little genre will insist on pop­ping up on our desk. So enjoy Number Seven: it may only be a paper moon — but it's full.
Simon Makhali and Ian Watson, January 1999
contents
From a diary

Insight

Little flatterbats

One more night in Newcastle

The moon

One enemy less to pay heed to

Now you see it, now you dont. A gaze on Dakar: white, curious

Landing

Rosi Oelke,

Ann-Kathrin Schwarz,

Oda Wilken,

Mirja Schulte-Derne

Eternal

Odd intimacy

Cinderella

Breakfast appointment

In the vaseline

Moonlight sonate

Unlimited

Souleater