editorial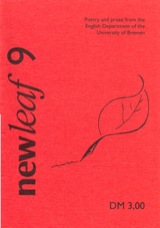 Some said it was a creative break; some said it was the meno­pause. But the reason why no
new
leaf
appeared towards the end of the winter semester was quite simply that we no longer wanted the magazine to appear towards the end of the semester. Tired professors with research mindsets, lectors with armfuls of marking and students with heads stuffed with vacation, earning the rent and reading for next semester's classes make bad customers. The voices of
new
leaf
vendors echo down deserted concrete corridors; posters flap in lethargic wind; flyers don't. From now on, the magazine will hit the streets in the hustle and bustle of a fresh term.
@ netleaf By the time you hold this issue in your hand, we will have our own website. It has been put together by Melanie Ebenhoch, with the aid of authors Kirsten Steppat, Irina Schmitt and Jens Hirschberg, who wrote and edited the texts. At the time of writing we still don't have the exact address; but once you've targeted www.uni-bremen.de you shouldn't need a compass to follow Studium : Fachbereiche : Fachbereich 10 : Anglistik: Kultur. On the site you'll be able to get the latest news but also down­load back issues, read some texts from our pipeline, find about the authors and even listen to us reading on the radio.
Warmest congratulations go out to our newleaf regular Sabine Broeck, who has now been appointed to the Chair of American Literature at Bremen, a post sadly and scandalously vacant since the death of Dieter Herms. It's been a long and tortuous process against bureaucratic indifference and the shoestring mentality prevalent in the humanities; so we're doubly glad – and just a bit proud.
Since last time, two British authors have been to Bremen to co-teach creative writing. Last summer Scottish poet John Burnside came for a week to our Poetry Workshop, and then this January the Belfast novelist Glenn Patterson was our guest tutor in the Narrative class. Both of course read in the city when they were here. As always, everything was by courtesy of the British Coun­cil, to whom our thanks go out in these pages.
The breakdown of contributors in newleaf Nine is perhaps more traditional than in Eight. Of our twelve authors, two are mem­bers of staff, eight are currently students in Bremen and one an ex-student. What is encouraging is that four of the student authors are new to the magazine and one is entering only his second semester; our colleague Cecile Sandten (herself of course a newleaf author) gave her first-years in the obligatory Grundkurs Literaturwissenschaft a poem to write as a homework assignment, and Sebastian Pirling was one of several new-genera­tion hopefuls we have caught in our net. More will follow. Our guest author this time is Michael Raj Kunsmann. As for gender relations in Number Nine, see for yourselves.
Also included in this issue is a commercial for Kirsten Steppat's book The Guinea Pig Speaks, which we published at the end of last year. Its glossy black cover is becoming a household item on desks, shelves and coffee tables.
'Fair nine, forsaking poetry?' No way. Nine lives, nineleaves.
Simon Makhali and Ian Watson, April 2000
contents
Rosa damasca

Light

On summer

Dinner with a genius

One for the road

Call and response

Flo's World

Long distance call

Witch burning

Windmills

Leaving

Neither reserve nor wisdom wins

Dreams drive us like cars

Some morning

Lucy

Parting

Her blood-red farewell

Scarecrow passions

To whom it may concern,

Pandora's Box