editorial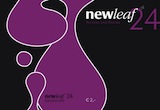 One score and four
– or perhaps a more fitting measuring rod would be 'one sonnet and ten' – is a lot longer than the average shelf life of a small literary magazine. Since we began, many such have shuffled off this post-modern coil, answering the conundrum of to be or not to be in favour of the latter. That we have got this far is no thanks to the new streamlined system of study in Germany, which whips students through their studies without air to breathe or time to invest time in working for a magazine. We have sabotaged the sausage-factory system by granting work on the staff of the magazine credit points for General Points. We now have a dynamic management hierarchy in which students in their fourth semester, who will going abroad in the fifth, are already grooming their second-semester successors. Hats off to you all in PR, sales, events and website – sellers, shifters and poster-stickers.
Work in Progress
What writing workshops are best at is underlining the importance of the process of writing, when most readers only know the finished product. But what the workshops are notorious for is producing tantalising beginnings. A fourteen-week semester is quickly over and in the course of the vacation re-drafts sometimes appear in the teacher's in-box – or, more often, they don't. One of the most gratifying comments a student writer can find at the bottom of a text is: More! The really intriguing beginning can be very moreish indeed. In the meantime it has also become acceptable to include Work in Progress, unfinished manuscripts, in anthologies like the British Council's New Writing series or Granta's Best of Young British Novelists. (The editors have been waiting since 2003 for the rest of Robert McLiam Wilson's novel that began with that fascinating Chapter One in No. 3.) One encouragement to actually finish the rest of a good story is to see the beginning in print, and so we have decided to present fiction In the Making, which is what we've called the new feature. As someone recently pointed out in a sceptical Guardian review of an anthology from the East Anglia Creative Writing course: when we read an extract from work in progress, do we assume that the extract is also in progress? Silke Hartmann's page-turner was written in early 2006. We're still waiting...
Menu
Our authors this time include an American living in Berlin, an American living in America, a Scot from Cumbria and a Scot from Scotland, a Bremen writer from Edinburgh, a poet from Dublin – and of course nine locals, including an ex-Bremerhavener. (Is there such a thing? – 'You can take the boy out of Bremerhaven, but...'?). We begin, though, with an American view of the Scottish breakfast...
Julia Boll, Simon Makhali & Ian Watson, May 2008

contents
She makes home smell like lemons

I saw the end

Oregon trail

Bluegrass

Pica

Dispossessing hamlet

Binnenschiff

Room with a view

Brush with fame

The morning after

Insomnia

Close

My empire

Magician

The jealous typewriter

May day

Full stop

Straight on 'til morning


Slipping seasons

In the house of arnolfini

Fireworks

Another day, another heartache

Poetree

Her – him