editorial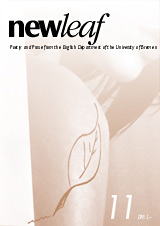 On squaring circle quarts in pint pots
The haiku continues to fascinate the west. Despite being pooh-poohed at after decades of creative writing workshops from Iowa to Eisenach, the little bastard keeps popping to the surface as a super vehicle for practising conciseness. We collect them like the shells you bring home from holiday, knowing we'll find a place for them somewhere, sometime. So when our haikus.doc file has again swollen to double page proportions, we will bring back the Haiku Box last seen in Issue Seven. Not that we don't have haikus this time, though…
The delicate dialectic of form and content is nowhere more obvious than in the sonnet, which has travelled and translated well over the centuries and cultures. In spite of variations from Petrarch to Seamus Heaney, it keeps its fourteen-line form and its octet and sestet to unravel its argument to and fro and back again. The haiku, on the other hand, is neither discursive nor disputatious; it snapshots through milky glass. As David Cobb remarks, '… the whole art of haiku is to leave things unsaid, and for the reader to complete the poem out of his own experience.' (Daily Telegraph, 2 May 2001) This has been so from Basho to Heaney - try his 'Dangerous pavements / But I face the ice this year / With my father's stick' from Seeing Things, Faber 1991. For more, look up www.britishhaikusociety.org.
To test how far the two forms clash, we set ourselves the task, in Poetry Workshop, of re-writing one of the most famous English sonnets of all time as a haiku. Although this proved to be mission impossible, some of the results reiterated the ever-rebounding ingenuity of our members, reflecting different ways people approach re-writing - from imitation to parody.
Good emotions don't necessarily make good poetry; or, as Eavan Boland has put it, 'Despite everything we feel, everything we may wish, self-expression is not art.' One of the unpleasant skills magazine editors have to work at is sending out letters of refusal. This burden increases as the magazine grows in stature, both through the website and publications like Light's List, a boon to authors in search of an outlet but sometimes grating to editors already floundering in unsolicited manuscripts. In spite of this extra work, though, it has been well worth the postage to the wannabes just to get the few gems, and the last couple of newleaves, including this one, have profited from our exposure to the global 'small mag' list culture. So keep sending in those manuscripts, even if your chances of getting a negative 'Dear Author' reply grow with the pressure on the market. We still have no pre-printed matrix for refusals; we respect every text that comes in, even if we don't like it. You may wait months or a year for your put-down, but it will be personalised. The days when we gave detailed comments and helpful tips are over; but we do like to think that every rejection letter (never a 'slip') we send out is still a Thank You. In an attempt to kick-start the Editor's Reply into a literary genre of its own, we would like to publish this 'Dear Author' haiku to wannabe budding newleaf contributor 'W.S.' from Stratford-upon-Avon, England, who sent us, believe it or not, a hundred and fifty three very old-fashioned sonnets which included some appalling spelling and exceedingly eccentric punctuation. We include one for your cheap amusement on the inside of the back cover. Keep practising, lad.
Dear William, When you've
found your voice, drop us a line
We'll think about it.
Many thanks to our new sponsor, Mrs Eileen Westermann of Business Bremen Centre, for her generous support in keeping us on the road. She is not only a patron of the arts but also a gifted writer in her own right, with whom we look forward to co-operating.
Last but not least, many thanks to artist and illustrator Quentin Blake for his personal permission to use of his lovely drawing of Roald Dahl's Matilda on page 26.
Simon Makhali and Ian Watson, June 2001
contents
Nothing

Strange Magnetism

Cora Buhlert

Irina Schmitt

Andreas GLoge

Stella Dreifke

Kirsten Steppat

Chicks

Genetics

Wanted: Dead and Alive

A Little Girl

Purdah

Through a Cat's Eye

Just Awake

Goodbye

Ytivarg

Alpine Path

Petals

Boppin'

Silkmusic

Thighlights

Not at Home