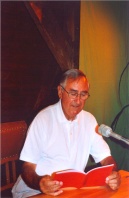 Werner Parusel
newleaf goes north
Tuesday, June 22nd 2004 was a glorious summer evening. Two carloads of leaves left Bremen to travel the 30 kays to Bremen – Bremen Nord to be exact, where at 8 p.m. Julia Boll, Elke Weiss, Werner Parusel and Tatjana Pfennig read to a warmly receptive audience in the historic setting of the Altes Packhaus run by the KITO in Vegesack. The authors were accompanied by Ian Watson (compere) and Cora Buhlert (sales manager) and Anja Pätzold (PR manager), who did their best to spread the word among the locals.
Tatjana Pfennig performed three poems and finished up with the story which has since become a hit at every reading she does it at: "Devil May Care". 'Hello,' said the Devil. 'May I come in?' Ana looked at him warily. She had already spilt milk and cried over it… (newleaf 17)
Werner Parusel (himself from St. Magnus in Bremen Nord and with a small band of followers in the audience) read from his autobiographical text "Pandora's Box" (newleaf 9) about the final days of the Second World War) but also, for a little light relief, his charmingly erotic eighteen-line maxi-sonnet "Persuasion in Blue".
After three poems, Elke Weiss read an excerpt from her longer comic story "Girl in the Box", whose heroine Gwen breaks into the house of the man she fancies, only to find evidence- – at least for her jealous mind – that he might be bi-sexual.
Julia Boll read her chilling story "Ferocity", with its indefinable national setting, its chilling prison cell and its violent end: Her fight against the prison walls began the following night. I heard screaming coming from the street, and when I concen-trated on the voices, I could make out Lois' raucous swearing. (newleaf 17)
The coverage in the Norddeutsche Zeitung two days later was excellent: half a page and a large photograph: "Ein beeindruckender Abend. Nicht nur für Anglisten …"
If you'd like more information about the KITO (Alte Hafenstr. 30 in Bremen-Vegesack) and their very interesting programme of readings, music and cabaret, please do not hesitate to visit their website.