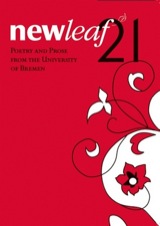 newleaf 21 now available; newlook magazine launched
newleaf celebrated the launch of number 21, the newlook new edition, with a very special reading in KIOTO/Lagerhaus, in Bremen's Ostertor district, the magazine's launch home since summer 2004. The evening's programme featured old and new newleaf local authors, some of them prize-winning, presenting both comic and serious prose and poetry, and texts by international authors Paul Hadfield (Scotland) and Marzena Kubisz (Poland) were also read. Singer-songwriter Diana-Maria Diehl created the musical ambience with her new band The Alvarez Theory, featuring a mellow sound of guitar, bass and fiddle. The band definitely made a real impact - oops, apologies to both the band and to Professor Alvarez for that one. Watch this space for photographs.
This time, it was not only a newleaf launch, but also an optical re-launch of the magazine in a completely new format. The cover has been completely re-designed: in place of the now traditional photograph with the hidden logo, which characterised the magazine from issue 11 on, number 21 has a cherry-red cover with a floral motif. newleaf is now ten pages longer, printed on more substantial paper and is no longer stapled but bound, giving it a completely new character and also a brand-new feel in the reader's hand. Inside there are also radical changes: two new fonts for the editorial and the main text. As much as we still love Dutch811 BT and Gill Sans, we realised that you can't hang on to everything for ever. Designer Oliver Chrystossek chose the new fonts carefully and has even built in a floral flip-book pattern as a gift to readers. Flick through the magazine and watch the flower grow! But of course it's the quality of the texts which give newleaf its real attraction:
Buy the new issue in Bremen from sellers on campus or from the Universitätsbuchhandlung. If you want to buy it from further afield, just mail the editors.