Launch newleaf 24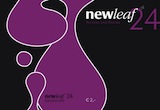 One score and four
In spite of strong competition from the uncommonly warm weather and a HSV - Werder Bremen match on the telly, there was a pretty good audience turnout at the launch of newleaf No. 24 at the KIOTO in Lagerhaus Schildstraße on May 7th, 2008. But then, no one attending the reading had to miss the match - as any important development was immediately announced by shouts from those viewing the game in the cafe downstairs. Though considering how many authors found their poems interrupted by cheers and jeers, it is surprising that there was only one goal scored, by Werder.
The evening was hosted by Anna Zacharias, who not only organised the event and read one of her own poems, but also presented a programme that was a mix of old and new faces.
The new faces included Kornelia Otte with a poem about the death of Hamlet and Björn Gohla, the first mathematics student ever to be published in newleaf. Another newcomer to newleaf, though an old hand at performing, was Hakan Ugurlu who entertained the audience with his fantastic hip-hop poem "Poetree".
But there were also many "old hands" in evidence at the launch of what at 64 pages is the biggest issue of newleaf ever. newleaf's resident urban fantasy writer Tatjana Pfennig presented her new story "Magician". Franziska Kreuser read her short story "Pica" and Patricia Schultz proved that it is indeed possible to write a sonnet about Paris Hilton and Beyonce Knowles. newleaf sales manager Cora Buhlert read three poems, including one about a chance encounter with Thomas Mann. Longtime newleaf author Kirsten Steppat mused about what really went on at the Schlachthof, way back when it was still an actual slaughterhouse.
We even flew in newleaf editor Julia Boll all the way from Edinburgh to present an untitled story-in-progress. Unfortunately, we could not fly in Ryan van Winkle from our friends at The Forrest Cafe in Edinburgh as well (but maybe someday soon - watch this space), so newleaf editor Ian Watson read a couple of his poems, including one revealing the little known fact that Bruce Springsteen used to write songs about toast.
Music was provided by singer/songwriter and new father James Johnston who dedicated one song to his nine-weeks-old daughter.
As always, many thanks to the great staff at the KIOTO, which this time around included a little white dog that was not only super cute but also amazingly quiet throughout the reading.
Photos of the launch can be found at the newleaf Flickr account.