Launch newleaf 27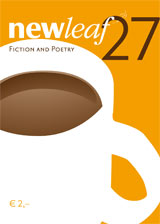 Coffee Rings
The launch reading for newleaf 27, which took place at Café KiOto in Lagerhaus Schildstraße on Wednesday, December 1st, 2010, was up against some stiff local competition. In the past, newleaf managed to hold its own against Ken Loach, Louis Begley, a Werder Bremen Champions League match and a World Cup semi-final. But how would our little magazine fare against the TV event of the year, at least as far as Bremen was concerned? Would people brave the subzero temperatures and come out to the real Viertel or stay in their cozy homes trying to catch a glimpse of the Weserstadion or Sielwallkreuzung in the TV adaption of Sven Regner's novel Neue Vahr Süd?
In the end, it turned out that we needn't have worried, for enough people — including several Viertel inhabitants and at least two residents of the real Neue Vahr — braved the cold to watch newleaf texts being performed live. The winter did demand its tribute, though, for this was the first newleaf launch without music, as singer/songwriter James Johnston had come down with the flu shortly before the reading.
Coffee Rings was also short on newleaf authors, since for the first time ever, the majority of texts in newleaf 27 were penned by international authors. What is more, our lone Bremen-based author, Elisabeth Dutz, is currently in Portsmouth for her semester abroad. So various members of the newleaf team stepped in to read a selection of texts from the magazine.
Saskia Wieland presented poems by Anna Haraseyko, Johanna Purwin recited poems by Elisabeth Dutz and former newleaf office manager Nurten Kurnaz read two poems by Lauren Lundin. Two long time newleaf authors stepped into the breach as well. Kirsten Steppat presented poems by J. Morgan Carney, Noel King as well as some of her own tried and true classics, while Ole D. Herlyn read texts by Elizabeth Burns, Fran Kronitzer, Tracy S. Rosenberg, and herself.
newleaf 27 is a rather poetry heavy issue, even the editorial — performed live by newleaf's editorial trio of Ian Watson, Simon Makhali and Julia Boll — was in verse. However, newleaf 27 also contains the first play ever published in the magazine, the comedy short Loving Psyche by Jeremy Page. Loving Psyche was brought to life on stage by newleaf alumnus Michel Büch and his Alsomirschmeckts!-Theater colleagues Julia Hajek and Tobias Sailer. More laughs were provided by another well-known newleaf performer, the multi-talented stand-up comedian Trish P. Schultz.
The title of the launch, Coffee Rings, refers not just to the stunning cover designed by Oliver Chrystossek, which features a cup of hot coffee, but also to the fact that there is now another piece of newleaf merchandise available: customised mugs.
As always, our thanks go out to the staff of Café KiOto at the Lagerhaus Schildstraße for hosting the event and keeping the Beck's flowing.