Launch newleaf 28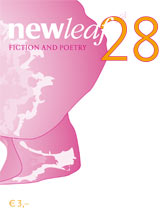 By leaves we live
The launch reading for newleaf 28 on Monday, June 25th, 2012, was not the best attended event we ever had, but it was certainly the highest. For our new venue was the Theaterwerkstatt at the Kulturzentrum Schlachthof, high above the roofs of Bremen. The venue itself as well as the view were lovely. Getting there, however, was something of a challenge, for the Theaterwerkstatt is located at the very top of the Schlachthof, directly underneath the roof.
The usual array of poetry, prose, music, comedy and other treats awaited those who braved the 73 step climb. Since newleaf is becoming an increasingly international magazine with contributors from Ireland, Britain, the US, Finland, New Zealand, Hongkong and Singapore, many authors were unable to present their own texts. Hence, newleaf's editorial trio stepped up to read texts by those authors who could not be in Bremen. newleaf editor Julia Boll read poems by Corinna Gerhards and Anne Kirkham, both of whom actually live in Bremen but were unable to attend the launch. Simon Makhali presented a bilingual love poem by Jeremy Page from Sussex as well as two rather grisly poems by Irish writer Noel King. Ian Watson finally read a wonderful short story by Singaporean writer A. K. Kulshreshth and also presented two of his own poems, both football themed sonnets for obvious reasons.
But luckily, two long-term newleaf authors were able to attend the launch and present their work. Bettina Snyder actually had a poem published in the very first issue of newleaf back in 1993 and is now back in Bremen and in newleaf after time spent in Ireland, India and the US. She read a selection of poems inspired by her travels. Another newleaf stalwart is Elke Marion Weiss, whose second crime novel Die ungewisse Reise nach Samarkand will be published in July. Elke read a selection of poetry, including a poem inspired by Gulliver's Travels and another dedicated to the memory of Angela Carter.
Music was provided by Rob Hyde and Anne Hamann, who sang a selection of folk songs. What is more, Rob also entertained the audience with his stand-up comedy act examining some German oddities from the POV of a British ex-pat.
Many thanks go to the crew of the Theaterwerkstatt who not just kept us supplied with Hemelinger, but also let us have the room for free. The Theaterwerkstatt operates on the so-called "pay after view" principle, which means that the audience donates whatever they can afford and consider appropriate after the event. newleaf adopted this principle for the launch, though not everybody in the audience quite grasped the concept of a silent collection (i.e. only paper money, no coins) in the tradition of the Reverend Ian Paisley.